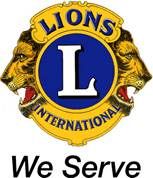 Glen Rose Lion's Club
Sponsor Level: Platinum
Glen Rose, Tx 76043
The Glen Rose Lion`s Club meets at noon the first and third Wednesdays of each month at the Stillwater Retreat Center on Barnard St. in Glen Rose, Texas.
The Lion`s motto "We serve" is reflected in their support of students of GRISD and the Glen Rose community.
The Lions are a sponsor of the SCCS and underwrite our student brochures.