NATIONAL NIGHT OUT
October 31, 2020
The Somervell Crime Stoppers hosted the 2020 National Night Out at the Somervell County Court House Square. The event was put on in conjunction with the Halloween Trunk or Treat. Several organizations and agencies participated in the event. Somervell County Sheriff's Office showcased their SWAT Bearcat armored vehicle, Somervell County Fire Department brought over 6 different apparatuses to show off to the public, Game Warden Mike Stevens brought the Operation Game Thief trailer that showed numerous game that had been poached in the State of Texas, Police Chief Buck Martin had a booth set up handing out candy to all ghost and goblins that participated in dressing up for the halloween festivities.
Somervell Crime Stoppers prepared 500 hot dogs for the event. The nourishment wouldn't have happened with out thanks to Glen Rose Brookshires, Walmart, Kroger, Sysco Foods and many other business that supported the event by donating food an other items.
Also a big thank you to the Somervell Crime Stoppers volunteer board members. This would not have happened without all of your help and support.
---
Somervell National Night Out
October 26, 2019
Saturday, October 26th, 2019 the Somervell Crime Stoppers in conjunction with the Somervell Sheriff's Office Association will be putting on the 2019 NATIONAL NIGHT OUT. It will be from 4pm to 6pm at the Somervell County Court House Square. The Somervell Fire Department will bring fire trucks, the Somervell Sheriff's Office will have patrol vehicles along with the Glen Rose Police Department and Texas DPS. The Texas Forest Service will have a booth as well as Smokey the bear along with Cellphone Sally, Ready Fox, Sparky the Fire Dog, McGruff the crime dog and Glen Rose Tiger himself, Tuffy! There will be a DJ along with FREE Hot Dogs! Hope to see you there!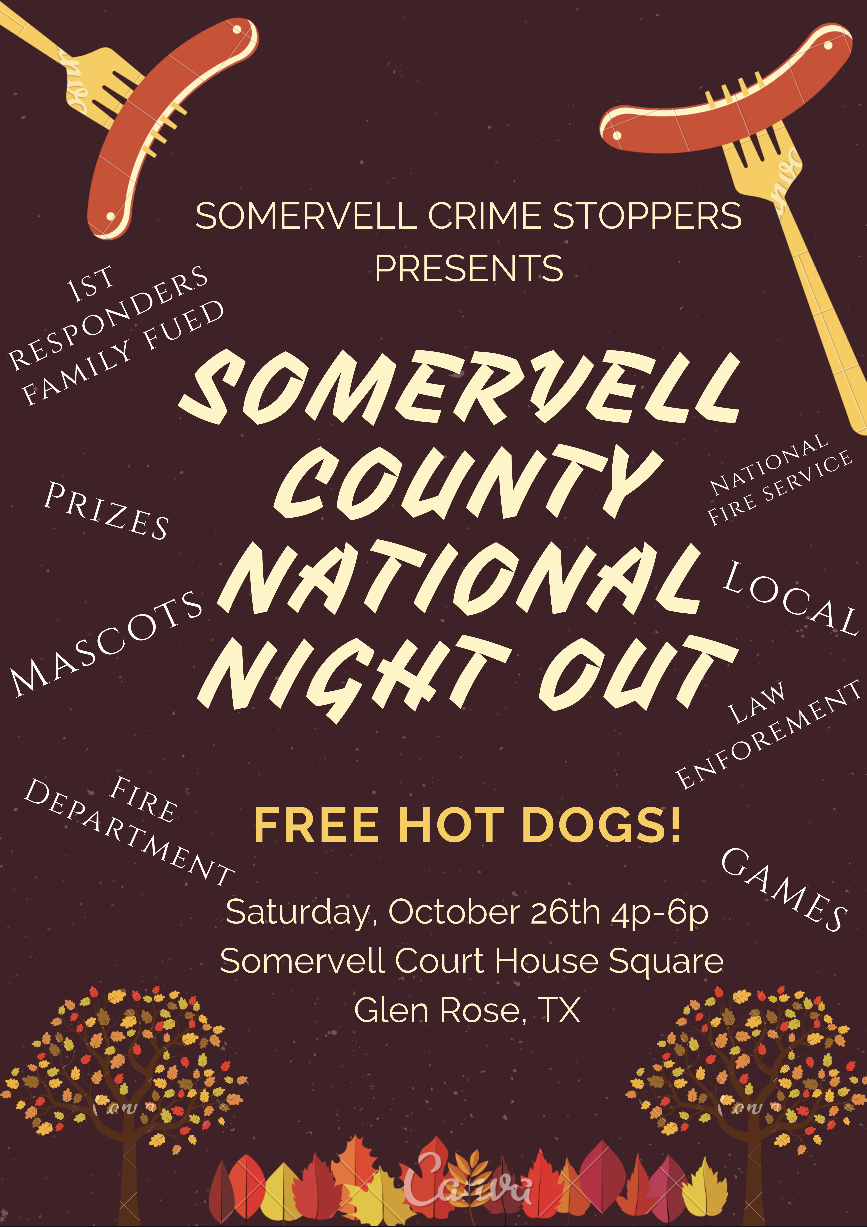 ---
Glen Rose Parade of Lights 2018
November 24, 2018
2018 Parade of Lights. Somervell Crime Stoppers and the Somervell County Sheriff's Office rang in the holidays together at the 2018 Parade of Lights.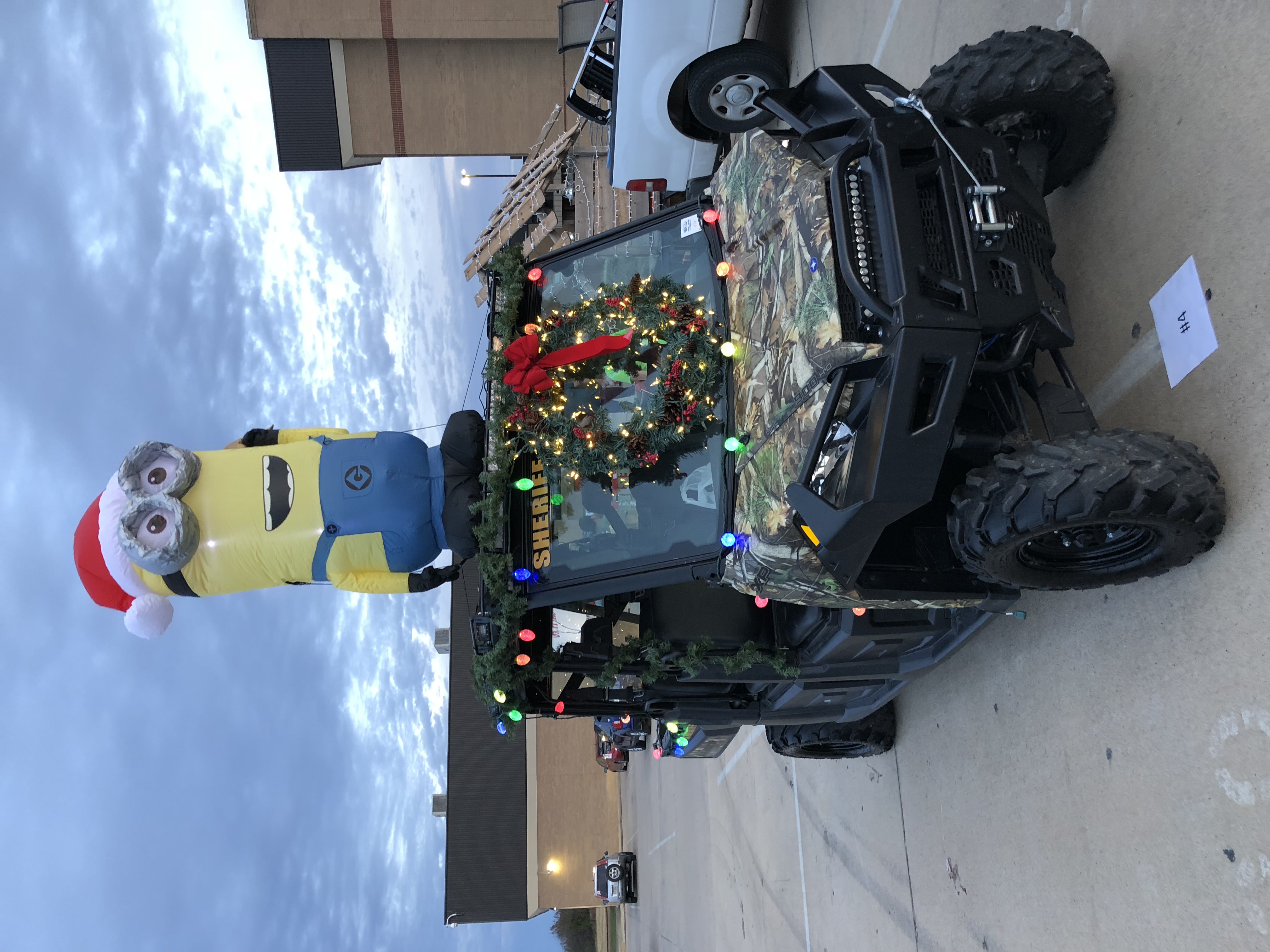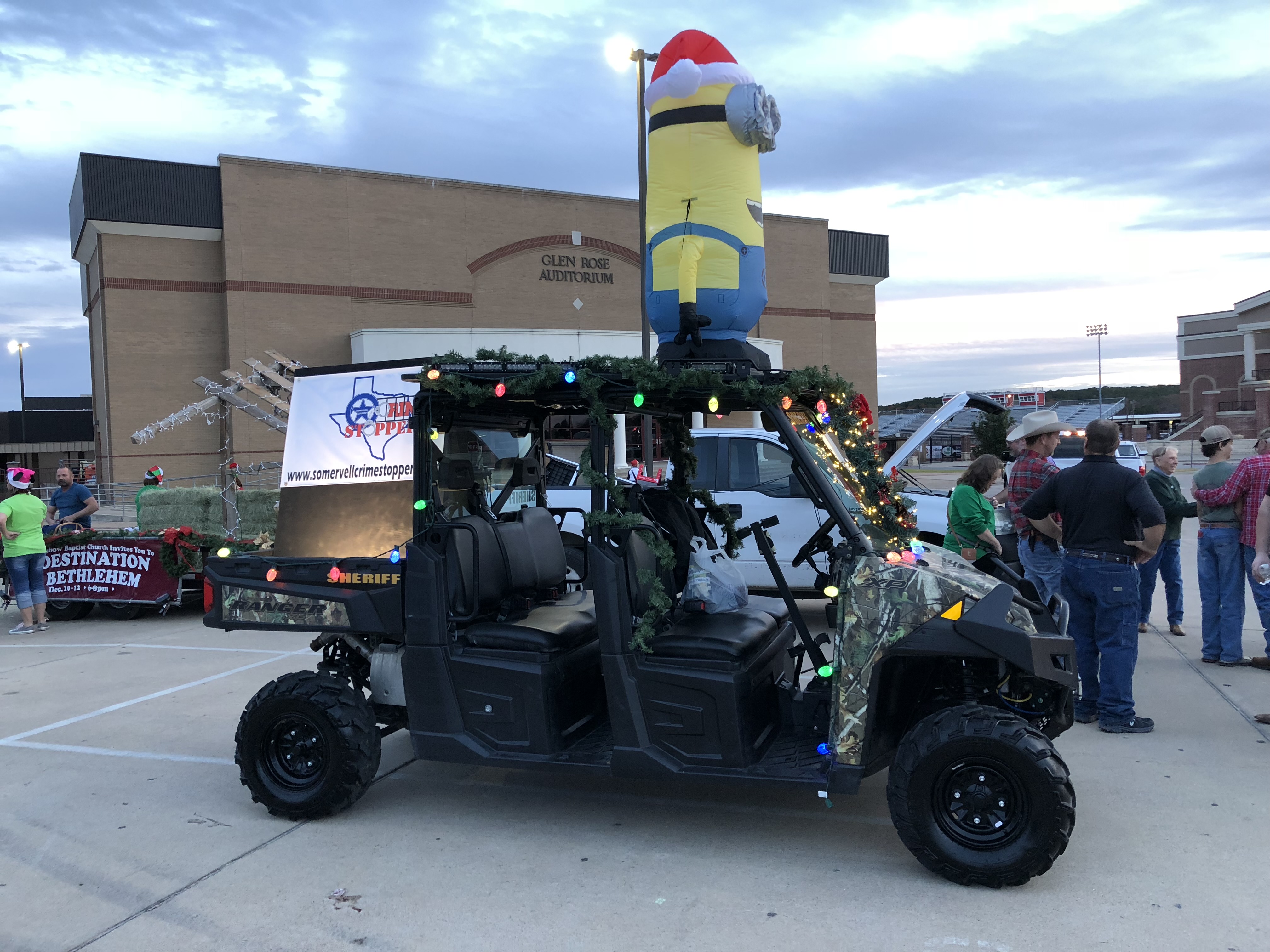 ---
Glen Rose Christmas Parade 2017
November 25, 2017
Come see us and deck the halls at the Glen Rose Christmas Parade. It starts at dusk and finishes at t he court house lawn. There will be Christmas Carols, hot chocolate, Tree Lighting and many other activities. Check out Cindy Lou on the Somervell County SWAT truck as she dials CRIME STOPPERS to tell about the GRINCH!
Glen Rose Christmas Parade and Tree Lighting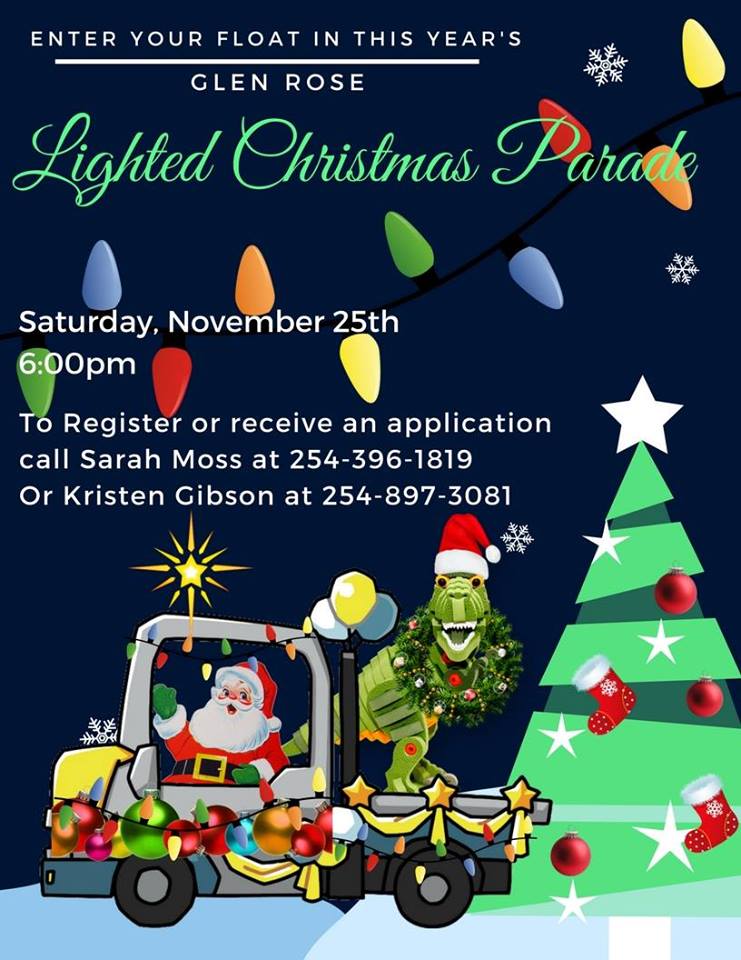 ---
Glen Rose Christmas Parade
December 11, 2016
Come join in the fun and festivities down on the square. The parade starts at 9pm and goes through town.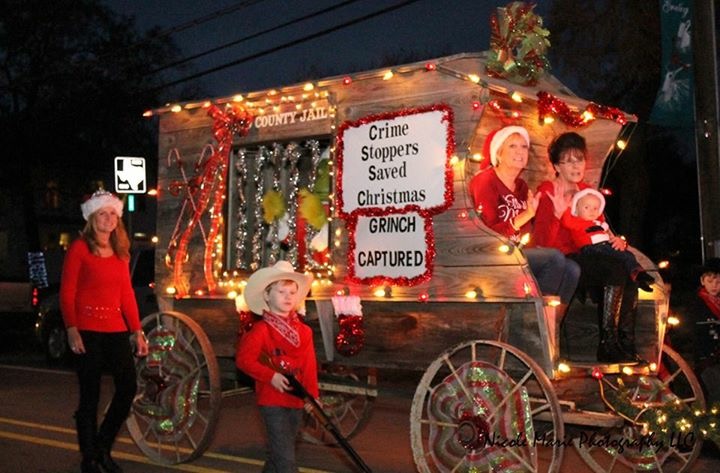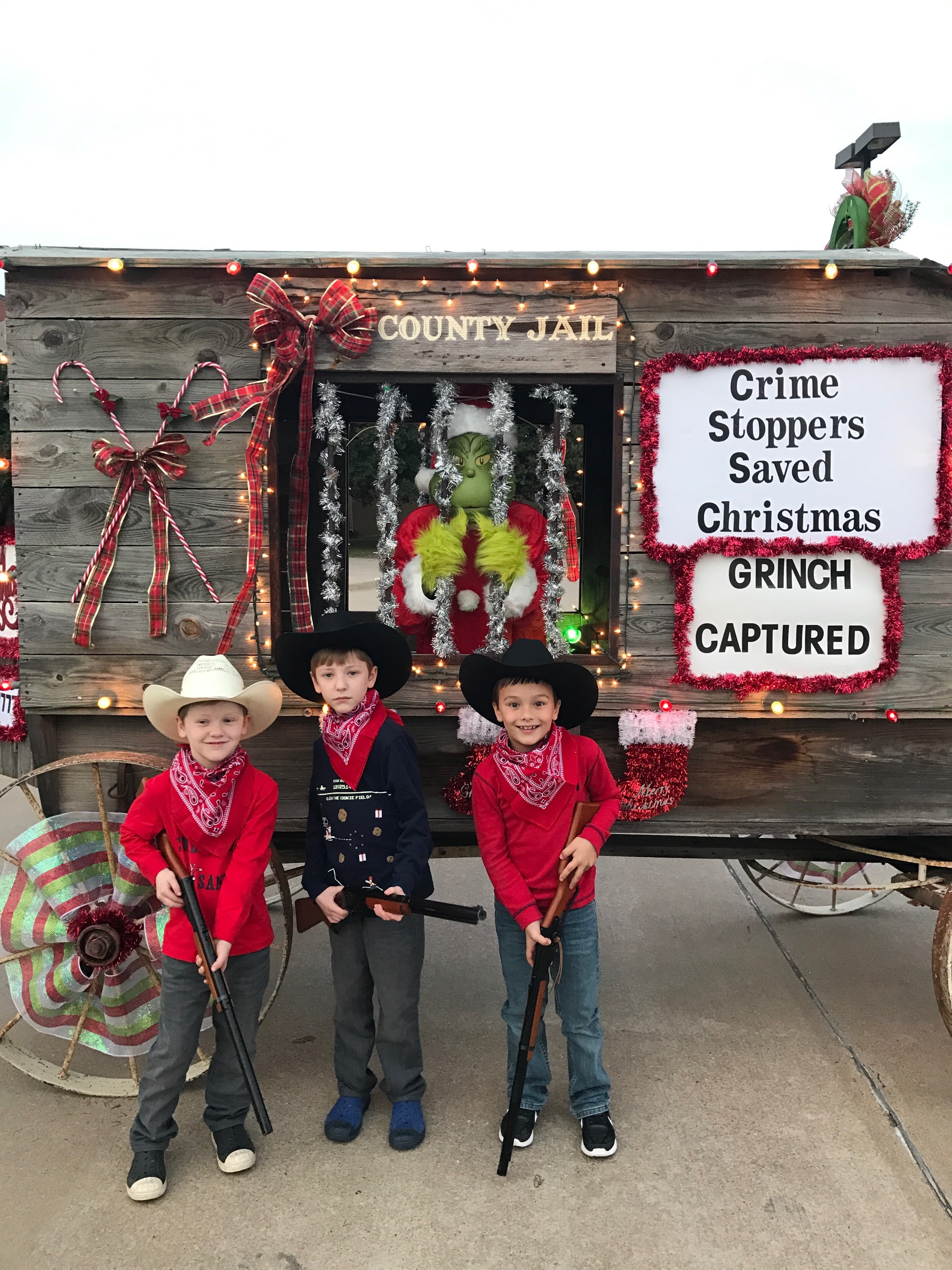 ---
NATIONAL NIGHT OUT CELEBRATION
October 16, 2016
All residents of Somervell County and surrounding areas are invited to join the Crime Stoppers of Somervell County in showing appreciation to our first responders October 25, 2014.
Activities begin with a Bike Rodeo at 4:30pm and then focus on the square around the old courthouse for the remainder of the evening, culminating with a street dance featuring the Mike Daniels Band.
National Night Out celebrated 30 years as a community activity across the United States in 2013. Neighbors organized block parties and spent time talking to those who live around them. In Glen Rose, our celebration will include proclamations of appreciation for our first responders and family focused activities around the square.
A schedule of events is on the National Night Out page. Plan to bring your family and your neighbors and "Fill the Square" October 25!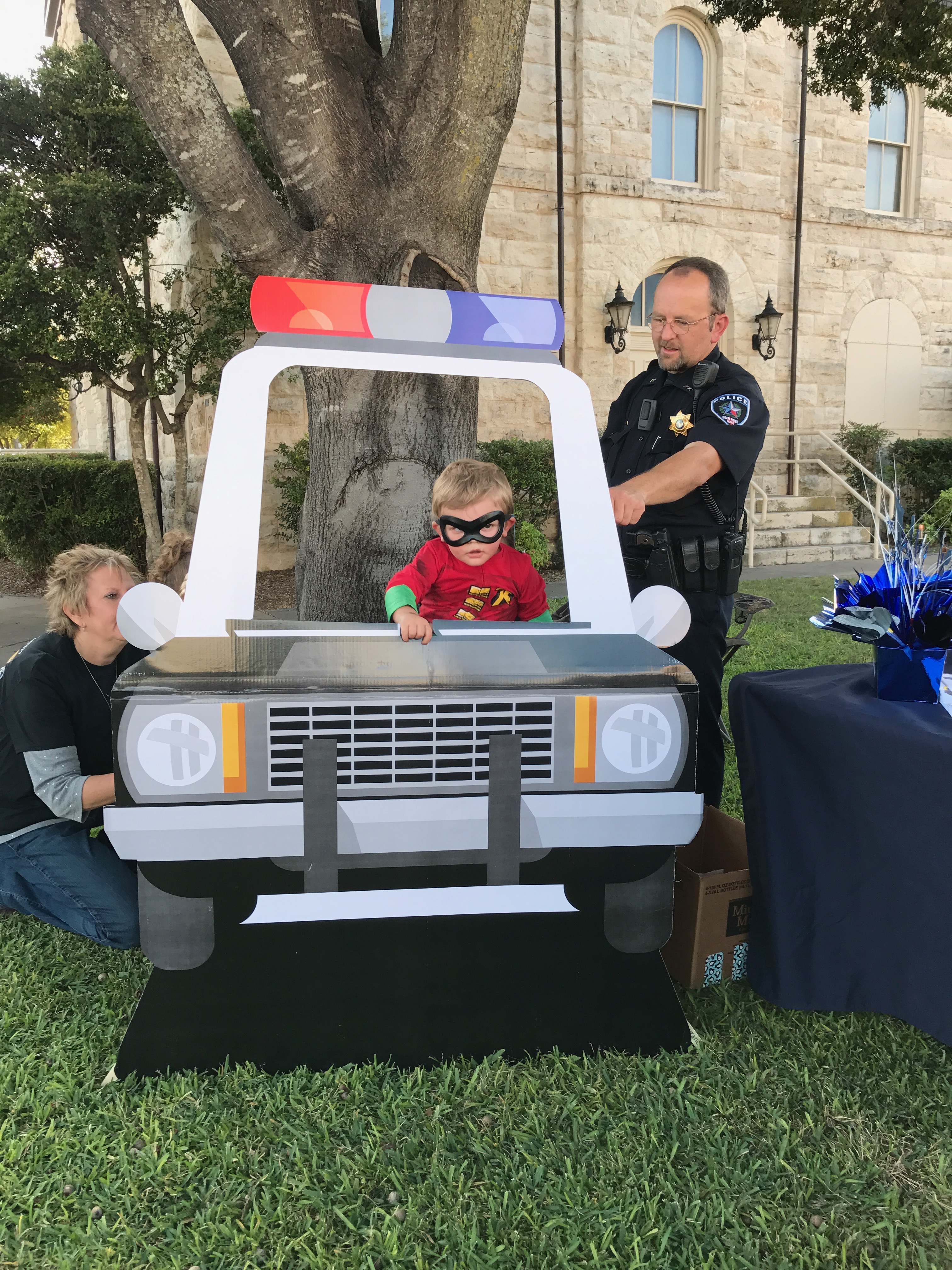 ---
CRIMESTOPPERS ATTEND CONFERENCE
October 07, 2014
Shane Tipton, Kim McAnally and Becky Bailey attended the annual Texas Crime Stoppers Conference, October 7-10, 2014, held this year in Beaumont, Texas. Among other programming, workshops by Capt. Raymond Dupuis of the Watertown Police Department in Watertown, Massachusetts and Officer Robert Garcia, Investigator Jorge I. Maldonado and Sergeant Robert Medina of the A&E reality series "Bordertown: Laredo" shared video and anecdotes about the Boston Marathon Bombing and Mexican Drug Cartels respectively, reinforced our appreciation for our beloved Glen Rose, Texas.
Active Crime Stopper Organizations are required to attend the annual conference to maintain a current level of awareness on best practices and trends in law enforcement.
---
GO BAGS
August 25, 2014
Crime Stoppers thanks the following contributors for donating to the emergency supply kit for our teachers in all the GRISD schools. We call these bags "GO BAGS" because they provide teachers with a quick resource in the event of evacuation, or shelter in place due to bad weather or lock down.
LDL
Glen Rose Lion's Club
Luminant
Quad J Century 21
GRISD
Prosperity Bank
Glen Rose Regional Hospital
Somervell County Crime Stoppers
Crime Stopper Board Members packed the bags over the summer and Officers Alan West and Shane Tipton delivered them to teachers the first week of school.
---
2014 Donor Raffle Winner
August 02, 2014
Once again Crime Stoppers shared information with the public about our tip line at the annual Health Fair held at the Expo.
McGruff the Crime Fighting Dog appeared and posed with young and old for pictures.
Popular from the Sheriff's department were the "bottle glasses" that give the illusion of being drunk. Cheerful participants staggered from point A to point B.
A drawing for an I-Pad created quite a stir and winning this year was Carli Byerly. A number of I-tunes cards were also awarded.
---
2013 Donor Raffle Winner
August 03, 2013
SCCS thanks all those who show their support of the efforts of the crime stopper program through their donations in the raffle ticket drive. We are delighted to present Tracy Williamson of Vogue Hair Design with an IPAD.
Your support enables us to share with the Glen Rose community the best methods for reporting tips through both printed brochures and our website.
---
GRMC Health Fair
August 02, 2013
SCCS distributed community brochures listing steps for providing anonymous tips from a booth at the GRMC Health Fair on Friday, August 2, 2013. McGruff the Crime Dog made an appearance to the delight of children and the young at heart alike and presented them with "Junior Deputy" McGruff badges encouraging them to help "Take a Bite out of Crime."
---
Lions Join SCCS Sponsors
June 19, 2013
June was a very good month for the Somervell County Crime Stoppers as community groups showed their approval for the work of the organization with sponsorships. Before Officer Derrell McCravey turned on the projector to share the newly activated Crime Stoppers web site with the club, Lions presented him with a check for $500.00. The monies are aside to provide brochures to GRISD students that focus on how to text a tip to the Crime Stoppers hotline.
THANK YOU GLEN ROSE LIONS!
---
Crime Stoppers Gain Sponsors
June 13, 2013
THANK YOU LDL
Derrell McCravey spoke at the June Chamber of Commerce meeting about the Somervell County Crime Stoppers. Taking Chamber members through the recently activated Crime Stoppers website, Officer McCravey emphasized the need for the community to step forward and volunteer information on open cases.
SCCS is funded by a percentage of collected court fees and donations from the private sector. Following the presentation, LDL Educational Resources Foundation, became a platinum sponsor. The generousity of LDL supports the costs of providing the community with materials for their training and awareness in resolving open crime cases.
---
Senior Scholarship Recognition
May 24, 2013
Somervell County Crime Stoppers is pleased to announce the 2013 recipient of the SCCS scholarship is Alex Dahl. Ms. Dahl dreams of serving as a U.S. Marshal and takes her first step to realizing that dream with classes this fall at Tarleton State University.
In a portion of her scholarship application, Alex writes:
"I choose to be the pebble thrown into the puddle that causes a ripple effect throughout the entire body of water. My commitment to lead by example with fairness and judgement will surely change the environment, if only a small piece at a time."
SCCS is proud to support Alex on this first step of her journey and offer our congratuations to her parents, Anders and Susie Dahl.
---
Crime Stoppers Open House
January 17, 2013
The Somervell County Crime Stoppers Board will open the January meeting to the public January 17, 2013. The meeting, hosted at the Glen Rose ISD tech center, provides the board with a forum for sharing progress of 2012, showcasing the newly designed web page and promoting use of Tipsoft software for collecting anonymous tips from both the web page and telephone sources. A short board meeting will be held prior to the open house. The public meeting will begin at 6:00pm.
---
Logo Designs Submitted by High School Students
December 20, 2012
Students from Glen Rose High School Art I classes submitted ideas to the Somervell County Crime Stoppers for a new logo design. Over 61 pieces of art were reviewed by the selection committee. A group of 12 designs made up the first round of considerations. A final group of four designs were shared with the committee and were ranked by each member. Finalists were Drayton Williams, Jason Rambo, Josh Beeson with the chosen design belonging to Justin Beeson.The board also chose to utilize the motto provided by Jason Rambo, "It only takes one call to stop crime."
Appreciation to Randy Haney, Glen Rose High School Art teacher, for promoting this project to his art students. It is in the spirit of the Crime Stopper program that we help each other and there is no finer community than Glen Rose, Texas to serve as an example of mutual support.
---
Crime Stoppers Drawing at Health Fair
August 03, 2012
The annual Glen Rose Medical Center Health Fair served as a "coming out" party for the Somervell County Crime Stoppers, Inc. The board, after collecting donations from the public, placed the donor names in a basket and selected one to receive a 32" Sanyo flat screen color TV. Congratulations to Sharon Patton, who left the Expo Center with the new TV.
---